THC vs. CBD: What You Need to Know
With the rising demand of natural medicines, medical marijuana compounds THC and CBD are starting to make a name for themselves more than ever before. These two compounds have a wide range of health benefits, making it understandable why patients and physicians would be interested in this alternative treatment option. Although these two compounds are derived from the same source and appear to be virtually identical, they affect the human body quite differently.
Cannabinoids and the Endocannabinoid System
Before we dissect these two compounds, it's important to understand where they come from and what part of the body they affect. Tetrahydrocannabinol (THC) and Cannabidiol (CBD) are just two of the 85 known cannabinoids found in the Cannabis plant.
"A cannabinoid is a compound that interacts directly with our body's Endocannabinoid System (ECS), which in short, is a network of receptors that interact with cannabinoids to maintain vital functions throughout our body." (Medium.com/CBD-Origin).
In 1988, scientists discovered the first cannabinoid receptor, with the second coming to light in 1993. In 1995, these two receptors were identified as CB1 and CB2 receptors. "The interaction between the CB1 and CB2 receptors with cannabinoids like CBD and THC is the catalyst for health benefits such as pain relief, anxiety relief, appetite stimulation, mood management and more."
Molecular Makeup
As far as chemical makeup goes, THC and CBD are the exact same: 21 carbon atoms, 30 hydrogen atoms and two oxygen atoms. Take a look at the figure below. The differentiator between the two compounds is the placement of one single atom through their structure. For reference, one atom is one million times smaller than a human hair, so we're talking about a microscopic difference.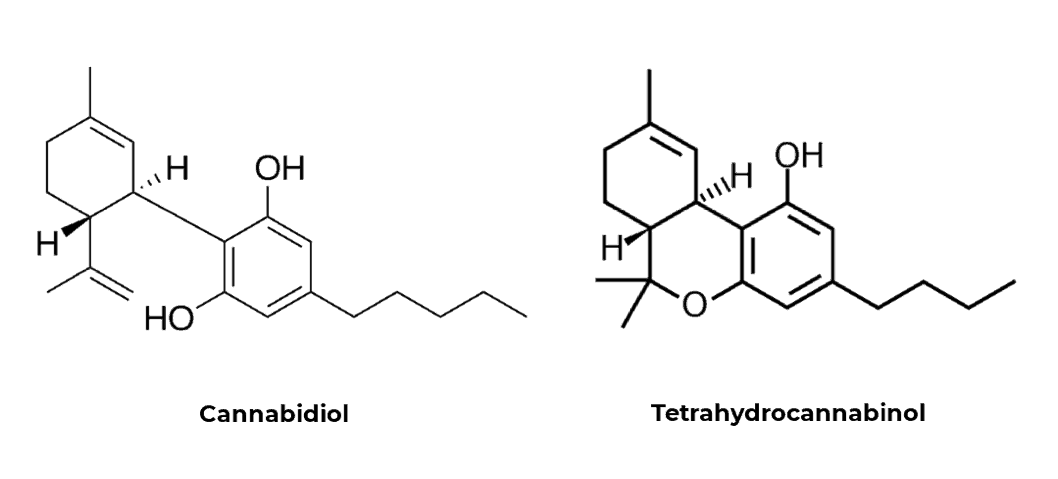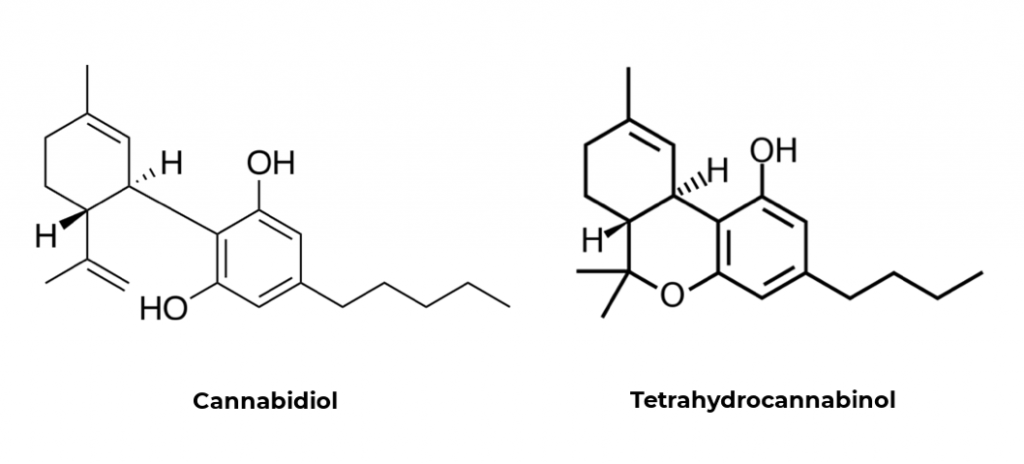 While a microscopic difference might not seem like a big deal, it's exactly what makes these two compounds react with our body in surprisingly different ways. These different reactions are due to the fact that THC and CBD have different molecular structures, causing them to have dissimilar interactions with CB1 and CB2.
THC vs. CBD: How Each Affects the Body
Despite their near identical structures, THC and CBD differ when it comes to psychoactive effects. In fact, CBD is a non-psychoactive compound, meaning it doesn't produce the "high" feeling associated with THC.
Due to its molecular structure, THC is able to bind strongly with CB1 receptors. When this bond is formed, the reaction creates signals that are then sent to the brain. These reactions are the core source of the well-known psychoactive response of "getting high".
On the complete opposite side of the spectrum, CBD does not bond strongly with CB1 receptors and can even negate the bond between THC and the CB1 receptors. By doing this, those psychoactive effects induced by THC are completely neutralized.
"While THC certainly offers tremendous health benefits, its mind-altering effects aren't preferred by everyone. CBD, on the other hand, can deliver many of the same benefits of THC without inducing its psychoactive effects. Plus, when using CBD vs THC, you typically won't be breaking the law." (Medium.com/CBD-Origin)
Are YOU ready to put CBD and THC to the test with your patients? Join Arfinn Med for FREE to get real medical marijuana treatment efficacies, discuss treatment options with other licensed physicians and stay up-to-date on all of the latest industry findings.
Looking for more information about CBD and THC? Check out these two articles to learn more about the health benefits and side effects:
https://medium.com/cbd-origin/cbd-vs-thc-the-difference-explained-b3cfc1da52f0
https://www.healthline.com/health/cbd-vs-thc#psychoactive-components
Stories you may be interested in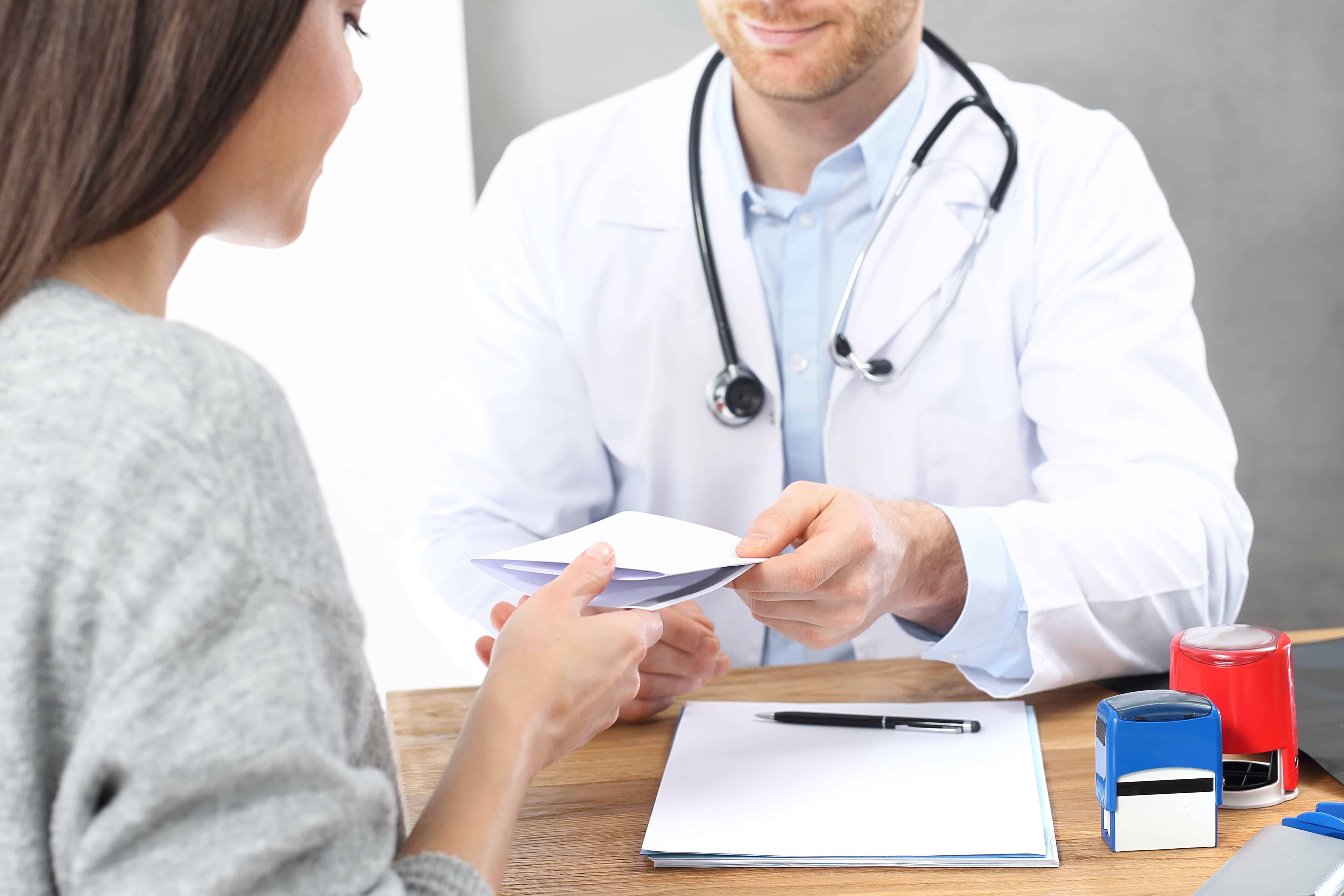 A new study shows a growing interest by university pharmacy programs in teaching about medical marijuana in their curriculum, while medical schools seem to lag behind. Sixty-two percent of U.S. pharmacy school respondents queried in a new survey said they included medical marijuana in their doctorate of pharmacy curriculum. That's according to a nine-page study co-authored by…
Read More

→